Saxophonist, singer-songwriter, arranger, and Gulf Coast Records recording artist, Jimmy Carpenter is on a roll! He won the 2021 and 2022 Blues Music Award for Best Instrumentalist/Horn. And he is now a Grammy-Winning Composer, for a composition he contributed to the New Orleans Nightcrawlers' winning album, Atmosphere. Jimmy has toured internationally with Tinsley Ellis, Jimmy Thackery, Walter Wolfman Washington, Eric Lindell, and Mike Zito and the Wheel. 2019's Soul Doctor, his first album on Gulf Coast Records, was extremely well-received worldwide, and in September 2022 he released his fifth solo album, The Louisiana Record, a collection of his favorite New Orleans songs, also on Gulf Coast. He has been a working musician for over 40 years, spent many years in New Orleans, and now resides in Las Vegas, where he is the Musical Director of one of the hottest blues festivals in the world, The Big Blues Bender.
More About Jimmy:
Jimmy Carpenter, saxophonist, singer-songwriter, and arranger, began his musical journey over 40 years ago. In the '80s, he toured the east coast with the renegade blues band, The Alka-Phonics, in the '90s with the blues-rock band The Believers, with whom he learned about the music business. Over the years, Jimmy has toured internationally with Tinsley Ellis, Jimmy Thackery, Walter Wolfman Washington, Eric Lindell, and others. In 2012 Jimmy joined Mike Zito, his long-time friend and musical cohort, and recorded and toured as a member of Mike Zito and the Wheel. In addition to touring nationally & internationally, Jimmy has written, arranged and recorded the horns for many artists, and has gained a reputation as a master Blues, Rock-n-Roll and R&B saxophonist. Jimmy has also released five solo albums: Toiling in Obscurity, (2008); Walk Away (Vizztone 2014), and Jimmy Carpenter Plays the Blues (Vizztone 2017), Soul Doctor (Gulf Coast Records 2019, and The Louisiana Record (Gulf Coast Records, 2022). After many years in New Orleans, he currently lives in Las Vegas with his partner in crime and musical inspiration, Ms. Carrie Stowers. In addition to leading his own band and playing with numerous others, he is the Musical Director for the Big Blues Bender, and leader of the Bender Brass, The Bender's house band. If that wasn't enough, he is the current president of the Las Vegas Blues Society. 
Praise for The Louisiana Record, Released September 2022 on Gulf Coast Records:
The Louisiana Record is the kind of set that will get your whole neighborhood dancing if played loud enough. Get it and get going! Mike O'Cull, Rock and Blues Muse
"I enjoyed this album from start to finish. Carpenter does a great job on vocals and tenor saxophone throughout and the bands does an exceptional job, too!"  Steve Jones, Blues Blast Magazine
"Carpenter's singing seems to get more soulful with every outing.." Grant Britt, No Depression
"This has really become an album that can really get a party started." Bluestown, The Netherlands
"Tenor sax man Jimmy Carpenter reminds me of 50s and 60s R&Ber King Curtis, with his big sound grooving through vintage juke box tunes of that period." George W Harris, JazzWeekly.com
"I have been a Jimmy Carpenter fan for 20 years, from the first time I heard him play with Jimmy Thackery. He's always been one of the premier sax players around. But Jimmy is also a stellar songwriter and singer. His voice is at its best on 'Soul Doctor',  Jimmy's best record to date. This album oozes cool and rocks hard with a classic sound that only Jimmy Carpenter can bring to the table."  — Mike Zito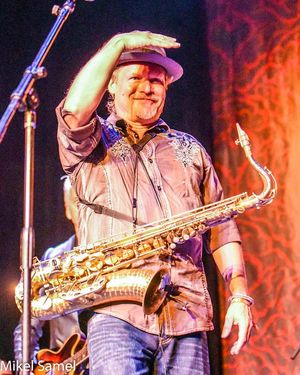 About Soul Doctor:
On September 20th, Gulf Coast Records will released Soul Doctor, the new studio album from saxophonist/singer-songwriter Jimmy Carpenter. Jimmy was excited to be invited to record on Gulf Coast Records, founded by his long-time friend and frequent collaborator, Mike Zito, and new friend Guy Hale. Soul Doctor is Jimmy Carpenter's fourth solo project, produced by Jimmy and recorded in Las Vegas at Nonebody Studio 1.  
Jimmy assembled a first-class group of musicians on Soul Doctor which features Jimmy Carpenter on saxophone and vocals, along with Cameron Tyler (drums/percussion/background vocals), Jason Langley (bass), Trevor Johnson (guitar), Chris Tofield (guitar/background vocals), Red Young (keys), Carrie Stowers (background vocals), and Queen Aries (background vocals). Soul Doctor also features special guest appearances by guitarist Nick Schnebelen on the track Soul Doctor, The Bender Brass: Doug Woolverton (trumpet), and Mark Earley (baritone sax), and Al Ek on harmonica on Wrong Turn. Musician and Gulf Coast Records co-founder, Mike Zito also contributed guitar & slide on Wild Streak.
Soul Doctor contains 10 songs, 7 of which are original compositions that Jimmy wrote or co-wrote. He successfully collaborated for the first time with Guy Hale (co-founder of Gulf Coast Records) on the tunes Soul Doctor and Wrong Turn. Setting the tone for the album, the title track, Soul Doctor, is a straight-up blues with a soul twist on the chorus. Special guest Nick Schnebelen just happened to be in Las Vegas, and oined Jimmy in the studio for this tune, adding his guitar expertise to the track. When I Met You, originally written as a country bluegrass song, was revamped with a Memphis groove, complete with horns, soul guitar, and beautiful harmonies sung by Carrie Stowers, the inspiration for the song. Carrie also inspired Wild Streak, a blues shuffle which highlights Red Young on piano and Trevor Johnson and Mike Zito on contrasting rhythm guitars, and a great slide solo by Zito. Love It So Much, with it's Bender Brass horns, funky guitar and organ, driving bass line and New Orleans 2nd line groove, is the perfect song to describe Jimmy's love for Crescent City, and his continued internal conflict between being a road dog musician and having a "normal" home life. Need Your Love So Bad, by one of Jimmy's favorite singers, Little Willie John, features Chris Tofield on guitar, and a beautiful, sultry tenor sax solo by Jimmy. Mike Zito once said to Jimmy, "Do you want to be right, or do you want to be happy?" That question stuck with Jimmy, and was the inspiration behind the song Wanna Be Right.  A Coasters classic, One Mint Julep, which Jimmy enjoyed performing for years with Walter Wolfman Washington and The Roadmasters, was re-worked as a funky instrumental. Based on a guitar lick that Jimmy wrote, Gulf Coast Records co-founder Guy Hale provided the lyrics for Wrong Turn, on which Jimmy plays guitar, with Trevor Johnson on slide throughout, and a wild harp solo by Mr. Al Ek. Next on Soul Doctor comes LoFi Roulette, a noir-ish vibe the band took as "lo-fi" as they could, with Chris Tofield contributing a blistering guitar solo and spooky organ by Red Young. Finally, Jimmy has been a long-time fan of Muscle Shoals guitarist/singer/songwriter Eddie Hinton since they met in the early '80s. Hinton's Yeah Man, withits positive, encouraging message, seemed to Jimmy to be the perfect way to end his upbeat and (mostly) happy album, Soul Doctor.